Photos of white cops helping black Americans
Washington D.C., USA – 15/04/2015 – as published by BBC Trending.
In the wake of several high-profile cases of white police officers killing unarmed black men, some Americans have been defending police by posting pictures of officers being helpful.
"Police officers that do the wrong thing seem to be getting all the press coverage," Chris Hall wrote on Facebook, underneath the above photo of an Ohio State Patrol officer changing a car tyre for a African-American woman. "This officer proves that for every one that does the wrong thing, there are thousands out there doing the right thing every day."
Hall pulled over while on the highway as a "gut reaction" when he saw the scene. He says didn't think about the fact that the woman being helped was African American at the time, but admitted that upon reflection, her race did matter.
"I have to wonder, had all this stuff that's going on in our society not been happening, would I have even bothered to pull over and take that picture? I don't know," he told BBC Trending.
His post received 23,000 shares and over 41,000 likes, along with several positive comments "For every bad cop, there are 1000s of good cops," wrote one woman. But some felt the photo missed the point. Another commenter said the issue was not about good cops versus bad cops, but "a system that is not right."
Posting positive images is a new strategy for defenders of the police, many of whom previously took their arguments to anti-police violence activists under hashtags such as #BlackLivesMatter and #BlackBrunch.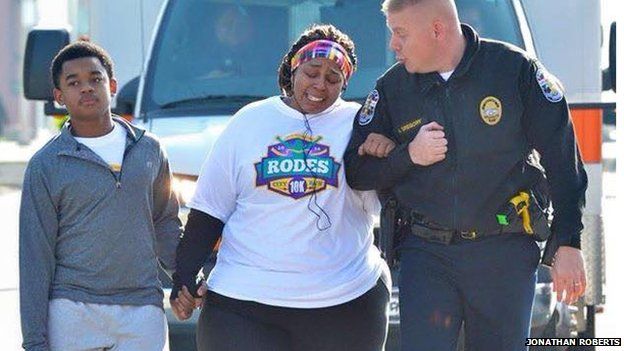 A picture of a woman being helped cross the finish line at a local city run in Louisville last month was shared on social media sites and promoted by Louisville Mayor Greg Fischer on both Facebook and Twitter. The woman who finished third-to-last in the race, Asia Ford, started to have trouble breathing at the fourth-mile mark when Police Lt Aubrey Gregory insisted on helping her to the finish line.
"It's not all about 'what bleeds leads' and it's not all about the bad things that happen that so seems to dominate our news media and social media," Gregorytold USA Today.
Another positive message about US police to emerge this week was posted by a young African-American man from South Carolina who was pulled over by police.
Will Stack, an Army National Guard service member, said in the video that "just because you're black doesn't mean you're a victim, just because you're white doesn't mean you're a racist, just because you're a cop doesn't mean you're a bad person." Stack said he had the fatal shooting of Walter Scott, also from South Carolina, on his mind as he made the video. The video was shared over 90,000 times from Facebook, had close to 1.6 million views and over 30,000 likes.
Stack told BBC Trending: "I wanted to put something positive out there – not all cops are bad." He was keen to stress, however, that he didn't want people to think after watching the video that he's "trying to sweep things under the rug."
"A lot of the naysayers felt like I was trying to overshadow the problem. I'm just trying to change it for the good," he said, adding that the relationship between law enforcement and civilians, especially ethnic minorities, is "a huge problem."
A survey conducted last year showed that both white and black Americans are largely sceptical that people of all races are treated fairly by police. The Pew Research Center study found that 38% of white Americans believe the police are doing an "excellent" or "good" job of treating racial and ethnic groups equally. Among blacks the number was just 10%, with 70% saying police did a "poor" job of equal treatment.