The young Republican behind an anti-Hillary Clinton hashtag
Washington D.C., USA – 16/04/2015 – as published by BBC Trending.
As one of the most famous politicians in the world announced her intention to run for US president, her opponents hit back on social media.
Hillary Clinton's announcement on Sunday that she would be running for president wasn't exactly a surprise. She made the long-anticipated declaration in a YouTube video and followed up with a tweet. But some of her opponents had already organised a welcoming party on social media.
A day before, the hashtag #WhyImNotVotingForHillary began to trend. Since then it has been used more than 180,000 times, and it's still going strong almost a week after it started. And while the former Secretary of State has many powerful and big-name foes, the hashtag has rather more grassroots origins – specifically, Markeece Young, a 19-year-old political science student.
"I think we should get #WhyImNotVotingForHillary tomorrow! What do you think people?" he wrote in a series of tweets, each tagging other conservatives active on Twitter. Young has had previous success with making conservative-themed hashtags go viral, previously pushing the hashtag #LiberalRaceHorseNamesduring the Kentucky Derby last year. ("Nationalize Velvet" and "Tax and Spend" were two of the more popular entries.)
"I think there's a long history of unethical and dishonest and corrupt behaviour from Mrs Clinton," he tells BBC Trending. "She embodies everything that I believe is wrong with the political process and politicians: a lack of transparency, being secretive and her sense of entitlement."
Among the incidents that Twitter users referenced using the hashtag were the death of four Americans in Benghazi in 2012 and the recent controversy over thousands of official emails Clinton deleted from a personal web server.

Some Clinton supporters, however, were also using the hashtag in an attempt to turn the message around. Writer Ben Schwartz, for instance, joked that he wasn't voting for Hillary – because it wasn't yet Election Day.
But the majority of tweets are in earnest. And as the presidential campaign continues, the hashtag continues to pop up when Clinton makes even a minor misstep – most recently on Thursday, when a driver apparently manoeuvred Clinton's campaign van into a spot reserved for handicapped drivers.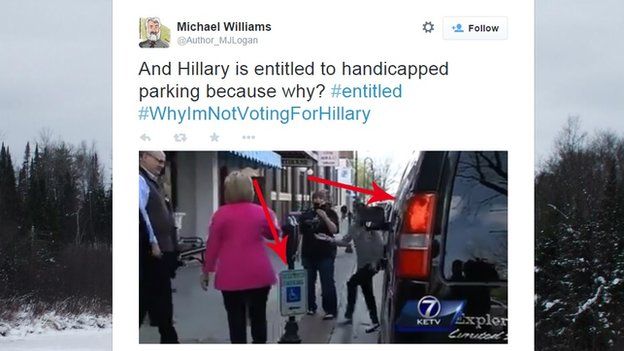 Young says he saw the hashtag as a chance to "use social media to educate young people on issues that matter and to use it as a tool to mobilize and get out and vote.
"Of course," he added, "not for Hillary!"