Who is Baltimore prosecutor Marilyn Mosby?
Washington D.C., USA – 01/05/2015 – as published by BBC Trending.
Marilyn Mosby has captured the world's attention after she announced she was pressing charges against Baltimore officers in the death of Freddie Gray.
By the end of her speech, the Baltimore prosecutor's name was a top trending term on Twitter in the United States. The #MarilynMosby hashtag has been used over 700,000 times on Twitter in the week since the protests began.
At 35, she is the youngest chief prosecutor of any major city in the United States, according to her website which promptly went down because of the volume of traffic to it.
She read the details of the case against the six officers and then addressed residents directly.
She said: "To the people of Baltimore and the demonstrators across America, I heard your call for 'no justice, no peace.'
"Your peace is sincerely needed as I work to deliver justice on behalf of this young man."
She added: "To the youth of this city, I will seek justice on your behalf. This is a moment. This is your moment."
Activists have hailed her relatively swift action because it was in contrast to cases last year in Ferguson, Missouri, and New York City where cases dragged on and prosecutors eventually ruled in support of officers.
---
Who is Marilyn Mosby?
Born in Boston, her first real introduction to the criminal justice system was intensely personal. When she was 14, her 17-year-old cousin was shot dead on her doorstep
The former insurance company lawyer, who had never before held elected office, was a prosecutor for six years before beating incumbent State Attorney Gregg Bernstein in January
She comes from a family steeped in law enforcement. Her grandfather, four uncles and her mother were all police officers
---
"I come from five generations of police officers," Mosby said on a local political radio show in 2014. "I know the sacrifices police officers make day in and day out away from their families and risking their lives."
But this has not stopped her from promising to prosecute police officials when necessary. In fact, part of what helped Mosby beat her rival incumbent State Attorney Gregg Bernstein last year was her belief that "No one is above the law."
In the same radio interview she said she would "go after individuals whether you're a police officer or a violent repeat offender. If you break the law and you believe you are above authority then I will go after you".
She is well connected in political circles – her husband, Baltimore City Councilman Nick Mosby, serves on the City Council as a representative for the area where Gray died, but this could end up complicating matters for the prosecutor.
Reaction on Twitter
Twitter users made pop culture references, comparing Mosby's no-nonsense approach to the hard-edged heroines of films and TV shows like Waiting to Exhale and Scandal.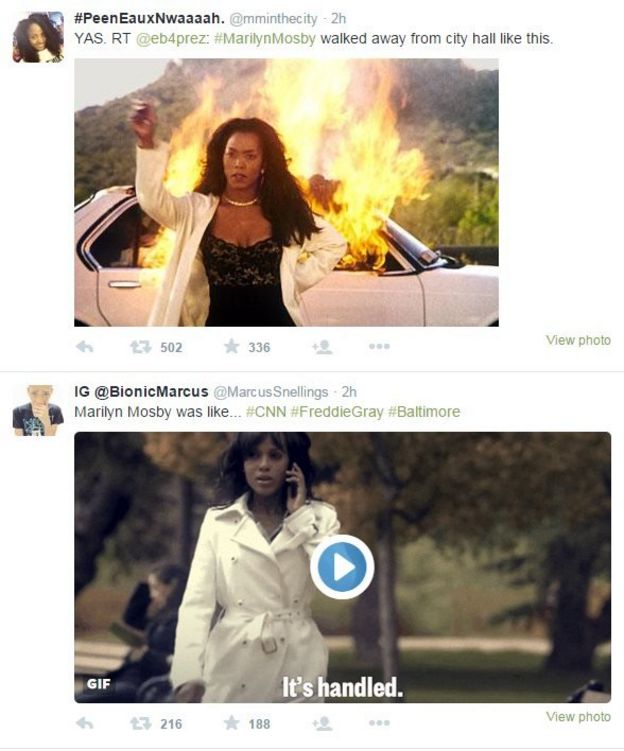 Moment in time
Many took to Twitter to say how they thought they had witnessed a historic moment.
"Marilyn Mosby is about to be a national Black hero," wrote @MarcLamontHill."When my daughter wake up #MarilynMosby will be on the TV charging 6 police for murdering #FreddyGray. I'll tell her this is history," wrote @Big6domino.
It didn't take long for her to be compared to Beyonce. And then championed as the next president.
Her speech gave many hope that justice would be done, and that the democratic process worked. Mosby, who was elected to her position last year, is "100% why I still believe voting rights are critically important," wrote @kissane.
But not everyone agreed with her approach, saying she "legalised a lynch mob"
Meanwhile, a lawyer acting for Baltimore's police union condemned what he called the hurried rush to file criminal charges.
And others questioned whether the violence in Baltimore had put Mosby under pressure to make a case against the officers.