#BBCTrending: Fashion Week controversy over Native design
Washington D.C., USA – 21/02/2015- as published by BBC Trending.
Inspiration has not been in short supply at this year's New York Fashion Week. One item on the runway has caused a stir, however, after a designer claimed on Instagram that her dress had been copied by another designer.
Native American fashion designer Bethany Yellowtail posted a comparison of a dress she had released last year and a design shown this week by London-based KTZ.
"The dress as stated on my website embodies a Crow design from my great great grandmother…funny I didn't realize @ktz_official knew the Yellowtails or the Crow people," she writes.
"It's one thing for designers to be unoriginal and knock off other peoples designs but what happens when you blatantly take cultural valuable designs from Indigenous people? Let's find out….#CanANativeLive #boycott #KTZ #ktzofficial #boycottKTZ"
The post received hundreds of comments and kicked off a discussion online about cultural appropriation, especially after the popular blog Native Appropriations wrote about the controversy.
Yellowtail told the BBC that the hourglass motif is "deeply personal" and has been in her family since the late 1800s.
"It has served as the singular source of inspiration for my recent collection," she says. "What is more, my Native American community has a long history of outsiders misappropriating our traditional designs and lazily calling it 'inspired' fashion."
Her dress was worn by music artist Goapele to a Grammy awards brunch this year.
Lauren Chief Elk was one of the many activists who took to Twitter after Yellowtail made her accusations. She calls the social media platform "a great venue for accountability".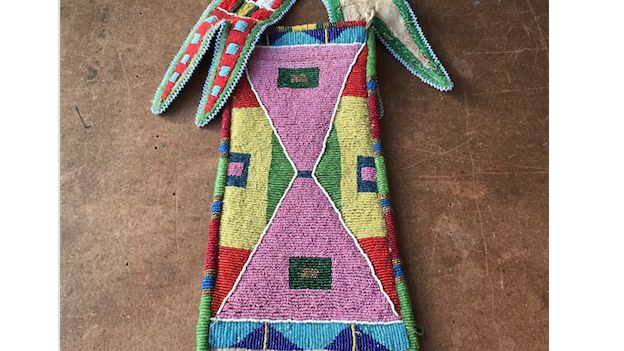 "If we were just relying on news coverage – all we'd see is Vogue saying this is wonderful and that would be it," she says.
Marjan Pejoski, the creative director behind the KTZ collection, positioned the line shown at Fashion week as a tribute to "the primal woman indigenous to this land".
But not everyone was convinced.
"If you are trying to 'pay tribute' to our culture, maybe you should INCLUDE and collaborate with real Indigenous people instead of blatant ripping someone off!" Instagram user Lalexotica writes on Yellowtail's Instagram feed.
Kelly Cutruone, KTZ's public relations representative, says the company draws inspiration from several sources.
"Marjan's work over the last 20 years has always been inspired by indigenous cultures and tribes – Cherokee, Apache, pagan witches, the Masai," Cutrone tells the BBC, speaking on the company's behalf.
"Even if there is a similarity, these images have existed for hundreds of years. I understand if she said that it is her design and she has worn it, but so did thousands of people for thousands of years."
She also rejects the idea that native looks belong to native designers. "Nobody is one race," she says. "You can get DNA tested and have backgrounds that you didn't even know about."
KTZ celebrates "beauty, truth and power behind indigenous things", she says, a notion that people should embrace.
But to Chief Elk, it's not a celebration.
"This is the fashion version of Select All-Copy-Paste and 'you should be grateful because I'm extending your work and honoring you'," she writes. "This is an extension of #HowWeDisappear, and being forcibly removed and erased from work and labor."